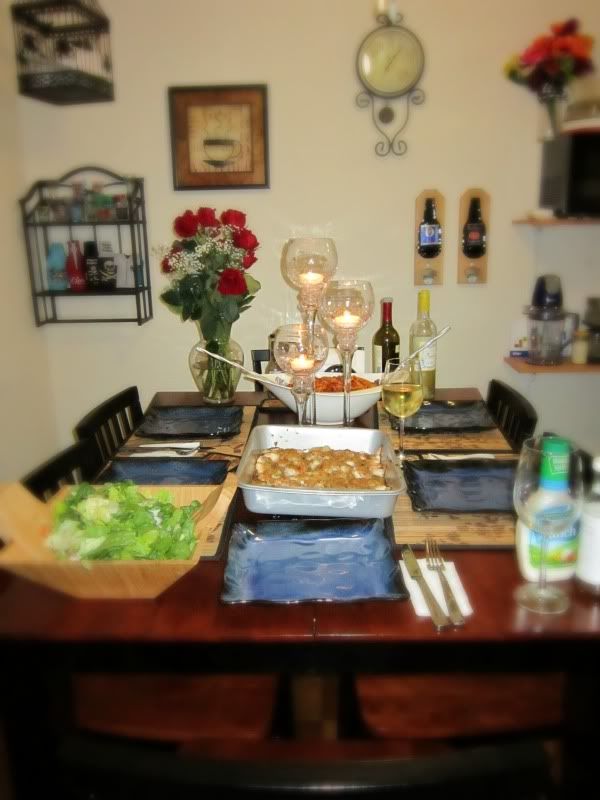 No, you're not seeing a picture from Valentine's Day dinner. This was last night..at our V-Day repeat dinner. I wanted to share the dinner I made with our parents, cuz they all deserve a good meal cooked for them once in a while, but it wouldn't have been so romantic if they all came over on Valentine's Day. That's when I came up with this repeat dinner idea.
I bought enough food to cover 2 nights and since everything was prepped as much as possible this elaborate dinner took maybe 20 minutes to throw together. All it took was some salad chopping, pasta boiling, and throwing the shrimp together (see below for recipe- it's so fancy and takes little effort).
I may make this a tradition because it was such a low key, relaxing night. I just loved how I could serve a semi-elaborate dinner and still be a part of the party since dinner took so little attention. I think I'm finally starting to get the hang of this whole hosting a dinner party thing. The (not so much of a) secret? Prepping in advance!
baked shrimp scampi
-
(served about 7- 5-7 shrimps each)
2.5 lbs of raw (cleaned and deveined) shrimp
1-1.5 lemons
3 large cloves of garlic
4-5 scallions
olive oil
1 1/2 cups breadcrumbs
1/2 c. pecorino romano
2 sticks of butter
1/2 tbsp each of basil, oregano, and rosemary
1 tsp of salt and pepper
Marinate the shrimp the night before in the lemon, chopped scallions, and garlic.
Preheat the oven to 450. Lightly oil the bottom of a large pan (13x10) and sprinkle the bottom of the pan with about a 1/2 cup of breadcrumbs (a fairly thin layer). Start to melt the two sticks of butter. Once completely melted, add basil, oregano, rosemary, salt, and pepper- stir. Lay the shrimp down in the pan in a single layer. Pour 3/4 of the butter mixture over the shrimp. Sprinkle pecorino romano over the shrimp, then sprinkle the remaining breadcrumbs on top of that. Pour the remaining 1/4 of the butter on top. Pop the pan in the 450 degree oven for 15-17 minutes (or until nice and browned) and serve.