Often times I start swooning over something I find online that's just way out of my budget. That's when I say "Hey..I can make that" but do I ever get around to actually making it? Well, let's just say I have really good intentions. I've finally put my foot down now..I have lined up a few projects that are going to be made. And that's that.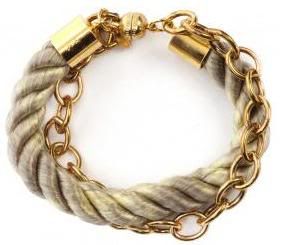 I came across this nautical bracelet just earlier today and my first thought was "oohh, I hope it's cheap". Of course it wasn't, unless you think 60 Euro's is cheap (in which case can I just say I envy you?). I went to X out of the website before I got too attached and realized this bracelet is only made up of rope, chain, and a clasp. I'm not quite sure why they think they can charge that much but you know what I am sure of? That I'll spend between $15 and $20 between Michaels and Home Depot for supplies and probably be able to make a pretty decent knock off along with a matching necklace. Take that glam-net.com! Deadline to get this project done- I'll give myself 2 weeks (if I can find all the materials)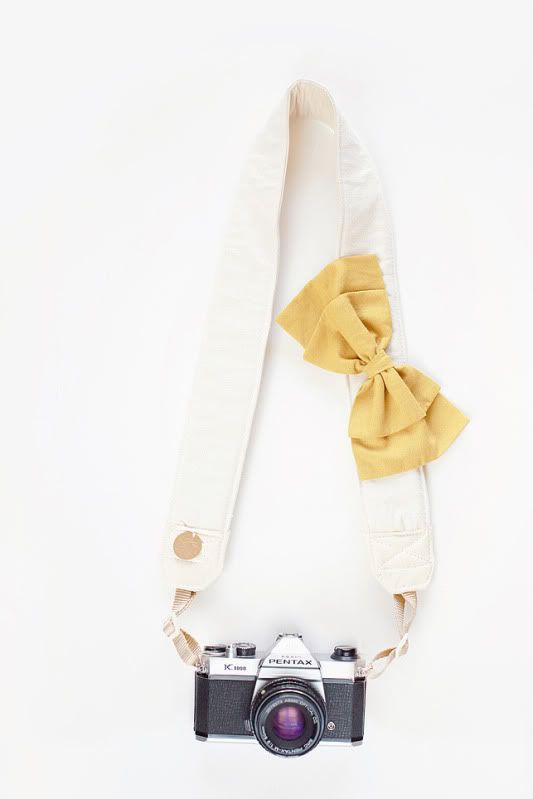 I need a new camera strap since the one that came with Edith (yea, I think that's what I'm naming her. Stay tuned though, I'm not 100% sure..) is too short, flimsy, and plain ol' boring black. As far as I'm concerned, this is the friggin bee's knee's as far as camera straps go but there is no way I can go about rationalizing spending $130 on a camera strap. Hubby mightttt have an aneurysm. Also, I think I'd prefer to wear my camera crossbody down on my hip so I don't feel so nerdy with it around my neck, yuck. I found some nifty instructions on how to make a camera strap
here
so I can make my dream strap for the cost of some fabric and a $3 dog leash. All I'd have to do (besides obviously not mess it up) is make a purdy bow, put ruffles everywhere, and add a lens cap holder (because if I keep up my current habits of putting it in pockets and bags it's sure to get lost). Deadline to get this project done- October 15th so it'll be ready for our weekend in Boston.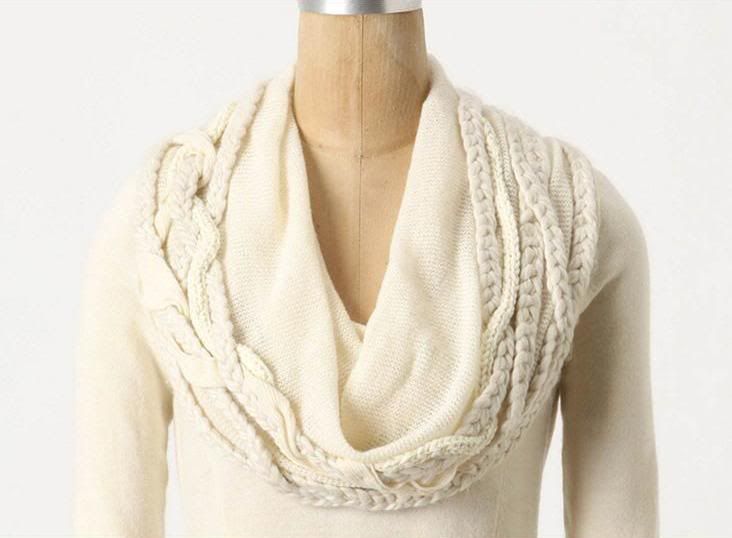 This is actually a sweater but the only part I have any interest in is that gorgeous cowl and lord knows I won't spend $128 on a sweater unless I love every inch of it. Ok, let's get real, I won't spend $128 on a sweater unless I'm under the influence of some serious alcohol, or heavy medication. Anyway, the only materials this project will require is some fabric and yarn. It won't hurt the wallet much but it will be mighty labor intensive. All that braiding, weaving, and inevitable sewing by hand. Ouch. Better start on this now if I want to be able to wear it in season. Deadline to get this project done- December(ish).
Better get going…a trip to Michael's is now in order.