The weekend was pretty perfect, in my opinion. It was the first of the season and if this is any indication of how summer is going to be well then, I say bring it on!
Friday night we had Alysha's graduation. I originally wasn't planning on going to the ceremony but there were some unexpected cancellations and free tickets so who I am to turn it down? The storm clouds were looming but they made it through the (very brief) ceremony just in time for the skies to open up. Afterwards, we went to Corner Galley for dinner. Wanna know why I love that place? Bison burgers and free wine with your meal. Doesn't get better than that…
Saturday I took my first trip of the season to the beach with the girls. The ocean was VERY cold, I managed to get stung by some unknown creature lurking in the water, and we played "I'm going to the beach and bringing.." and "name that cloud" for like an hour…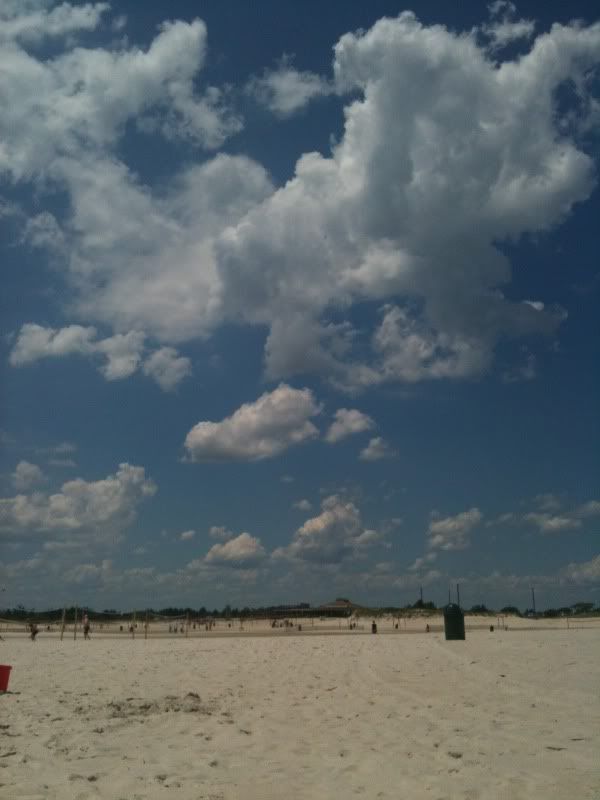 then later we went out for a birthday party and unfortunately I was too busy getting white girl wasted to remember to take any pictures. Shame on me.
And Sunday, oh Sunday. It was glorious. I sat down on the floor with my sewing pile (because I've been ignoring it way to long and it was about 1 shirt away from becoming a heap) and put on the TV. There was a movie marathon of Sherlock Holmes, 30 Days of Night, and Underworld: Evolution. Thank you channel 40. Other than that, dinner was made and time with the hubster was spent.
That was that, my weekend in a nutshell. Somewhat eventful and very relaxing, a great start to the summer.