I think I've already mentioned this before but my outfit while flying is of the most importance. It has to be cute, comfortable, and versatile enough for last minute hecticness at the apartment, running through airports, and ultimately enjoying my first day at my new destination (because god forbid I stop and change- I've got things to do!). With that said, here is what I opted to fly in for our trip to San Francisco.
Aqua jeans- jcpenney's // t-shirt & tank- f21 // crochet cardi- f21 // floral flats- f21
My original inspiration was this look from Delia's spring catalog.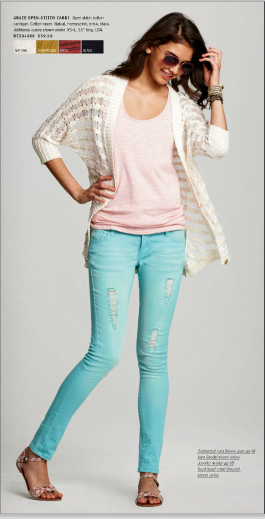 I was instantly taken with this outfit. The mix of fabrics and colors was spot on. The price tag was just a wee bit too high for mediocre (at best) quality clothing. I happened to stumble upon an almost identical pair of jeans with a $25 price tag (vs. $39.50 from Delia's) and my mind was made up- this outfit would be mine. I already owned the cardi and the only thing I switched up was adding some floral flats (that couldn't be passed up when purchasing the tee and tank) instead of the sandals in the original look.
This outfit really did serve me well. It kept me just warm enough in the chilly morning air, was comfy enough for the 6 hours on the plane, and amazingly didn't get too wrinkled so I could still look put together once we landed. It even made it through a rather rugged terrain filled walk through Golden Gate Park (big thanks to Kevin for leading us off the beaten path while I'm in sequin covered flats. Always a good time). Can't say I made it out clean but all was definitely intact.
[
side note
] Sorry for the less than stellar pictures. Hubby was originally contracted out to take these but of course, he was running late and I was left to my own devices while I waited (not so) patiently for him to get ready. Boooo for things not going as planned!