The past few weekends I've made it my priority to put thought into my outfits and try to wear things that I may not often wear. I think I've been successful...
(2 weeks ago)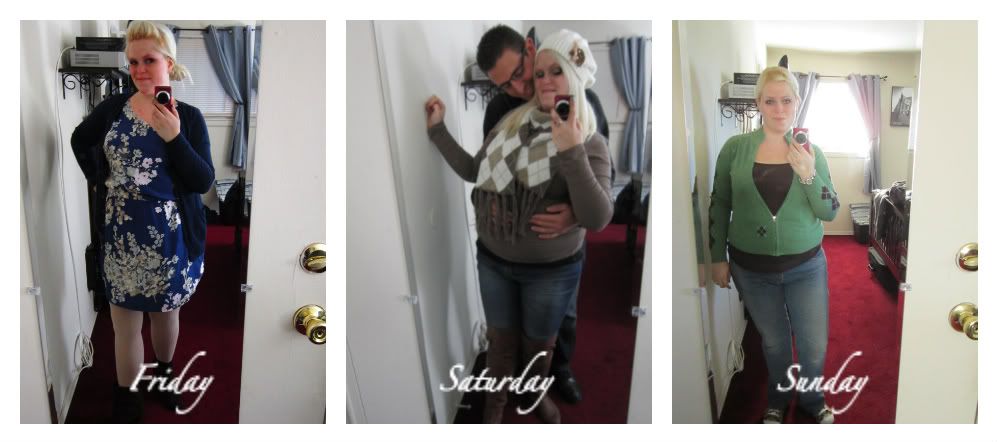 Friday- I wore one of my new dresses because I just couldn't wait until April to break it out for the first time. Since it was still January at the time I had to pair it with knit stockings, brown ankle boots, and my trusty navy cardigan. I'm loving the combination of the light, silky fabric of the dress paired with the heavier knit fabrics.
Saturday-I knew I was going to be out in the woods so I also had to keep the function of this outfit in mind. My still yet to be worn hat & scarf set along with my awesome over the knee boots spruced up a simple pair of skinny jeans and knit top. Hubby was feelin this outfit too, since he just
had
to hop in the picture with me.
Sunday- The purpose of this outfit was to utilize pieces I haven't worn in quite a while. The zip-up sweater I've only worn no more than a handful of times since I acquired it from a friend 3 years ago and my beloved coach sneakers that I just HAD to have haven't been worn since probably last spring. It was nice to finally break them out again.
(last weekend)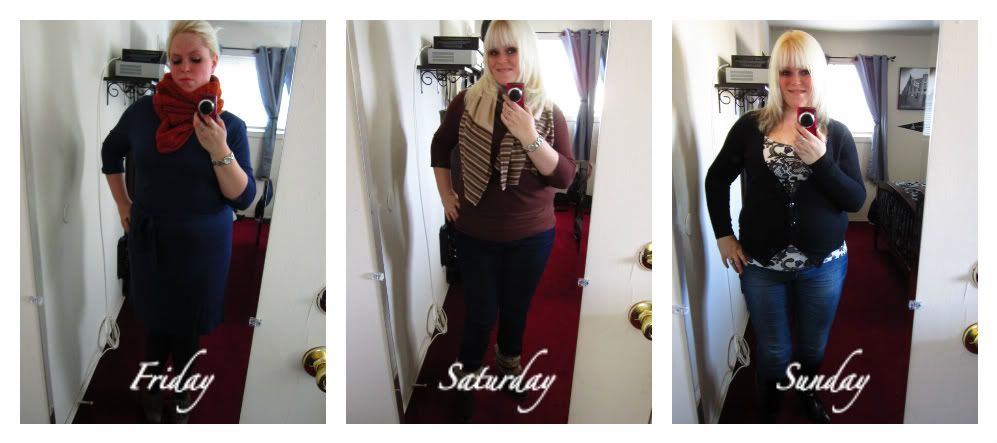 Friday- There seems to be a pattern forming that come Friday I want to be in a dress...this is my other recently purchased dress. I was going for a colorblocked mix of dark and neutral shades. I think it works? And I'm always into finding a reason to wear my cowl neck, which I think may be my favorite purchase of the season.
Saturday- This outfit is all about the scarf and boots. Without them, it would be a snore. I've been wearing this scarf more than ever recently and I'm finding out I love it. The fur trimmed boots are also adorable but they're a pain in the neck to take on and off..my reasoning for not wearing them too often.
Sunday- This was my Superbowl outfit. Wanted to be comfortable and look cute simultaneously. When I want that to happen, those black boots are my go to shoe. They dress any outfit up and they're comfortable, at least for the first few hours. And I just love this tank top, I try to wear it whenever possible. It's a gray/black lace pattern and it's probably the most comfortable thing ever.
I also started a little weekday wardrobe project....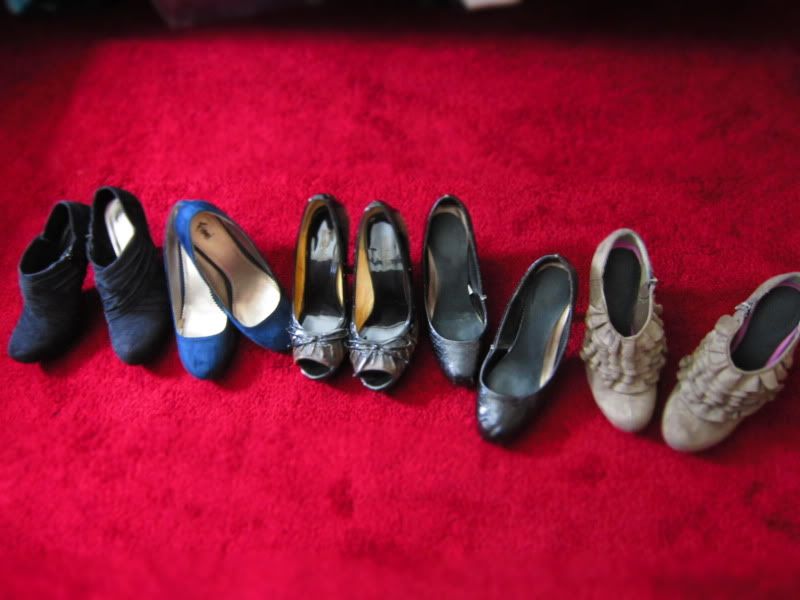 Wear heels, everyday, at least to work. The purpose? I'm attempting to make my feet more accustomed to wearing heels. My thought process is that maybe if my feet are used to constantly being in heels, maybe they won't hurt as much in them? We shall see.