Saturday night I attended the wedding of my friend Courtney. My first, and only for a LONG time, wedding as a newlywed myself.
It was quite a fun time..and SO cute considering she's a Disney princess fan and chose to walk down the aisle to a song from Sleeping Beauty. It was probably the smallest wedding I've been to with only 75 people and I kinda liked it that way. It was much more intimate and friendly environment instead of feeling like you're getting lost in a crowd of 150+ people. Plus, it was fun to just watch the girls go up to catch the bouquet instead of being one of them in the crowd.
Sadly, I have next to no pictures of the entire event. The reason why? Stupid, stupid me wanted to wear my awesome 5 inch spikey heels to the wedding. As I was walking (in those shoes) towards the bathroom, camera in hand, to obviously take some cliche mirror pictures I lost my balance in the shoes and stumbled. That stumble catapulted the camera from my hand and onto a hardwood floor. Needless to say, the lens is demolished. Talk about being scared shitless to tell hubby. Yea, I got bitched at but I have a warranty so now I'm limited to IPhone pictures until my new camera comes in the mail.
Anywho, I was at least able to take a picture of my lil get-up that night. My hair came out pretty good...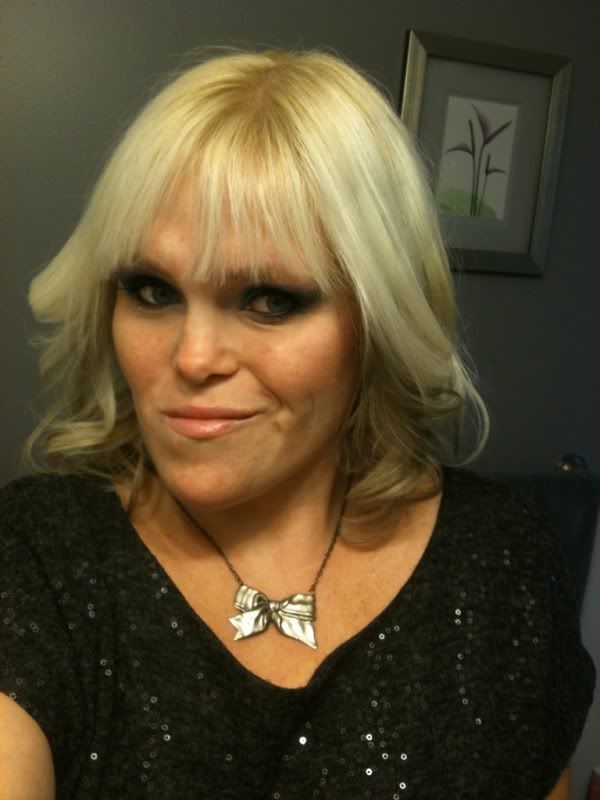 and I thought the dress and shoes went so well together and I shockingly kept the shoes on for about 75% of the night.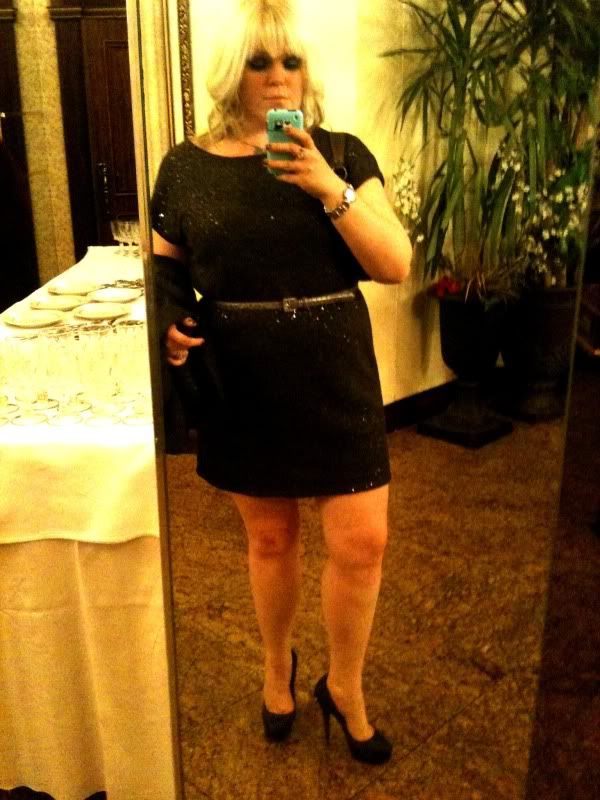 Since we stayed out a little late and my legs ACHED from those shoes, I opted for a calm, quiet day at home yesterday. Hubby had put up the shelf we bought for the plain, empty wall in our living room and I had all of purdy things that I wanted to put on it so I figured what's a better time than now?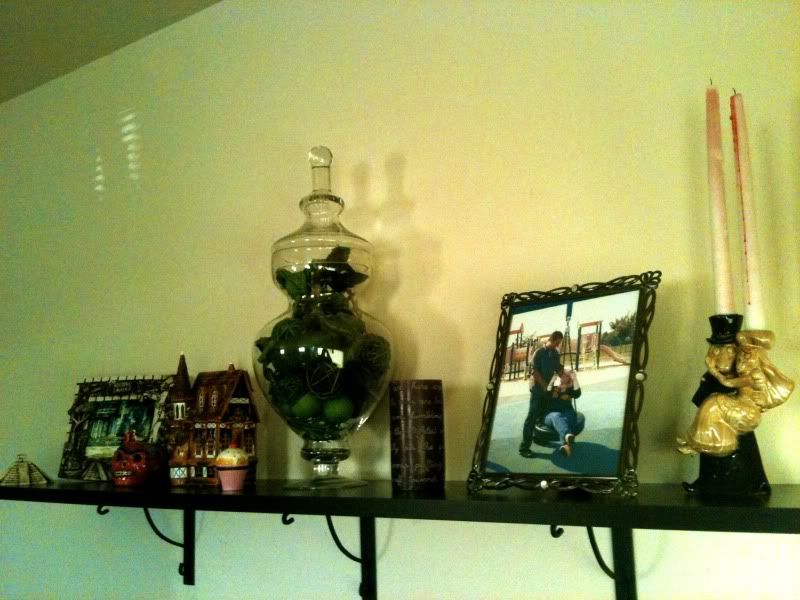 I'm in love with the way this shelf came out. Everything on there is something we adore and even though you wouldn't think that the objects separately would go together they're totally cohesive up there...at least to me. And yes, that is blood dripping from those candles. Why do I think that makes them 10x more awesome? Not quite sure...

I felt like I needed a "centerpiece" for the shelf since the idea to hang a picture frame above it was vetoed by the oh so lovely hubby. My original idea was a vase with branches but the height I needed for that just wasn't there. Then, I remembered back to my wedding planning days and my love for apothecary jars. I wanted to do something with them in my centerpiece but they were just way to expensive to be buying 15 or so of them. On a whim, I decided to check out Home Goods to see what they had before I went and ordered stuff online. Lucky me..I found just what I wanted. This rather large jar and
bright green
vase filler. It's just perfect.
My living room is coming so much closer to being done.