I've decided this morning that today is going to be a fresh new start with the diet. I'm completely going to recommit myself to the cause. This idea came about, rather unexpectedly, when I forced myself to get on the scale (of course I didn't want to!) and saw no change. Usually I'd praise the weight loss gods for no gains but for some reason that same ugly number staring back at me stirred something up inside me and I had the revelation that no, I'm not going to stand for this anymore.
(I'm feeling quite empowered right now and not to rain on my own parade but I'll even be shocked if this sticks)
I geared myself up with the healthiest breakfast I could think of
and started on my merry way with this weight loss adventure. My current motivations- our San Francisco trip in 21 days, the impending doom of summer, and that bridesmaid dress I'm going to have to stand in front of a whole bunch of people in that will be happening in under a year. My current roadblocks- the "deep fried fun" day I'm planning (why not just cancel it you ask? Well, cuz I want deep fried reese's and banana's..that's why), and the pile of goodies that has taken up residence on my nightstand…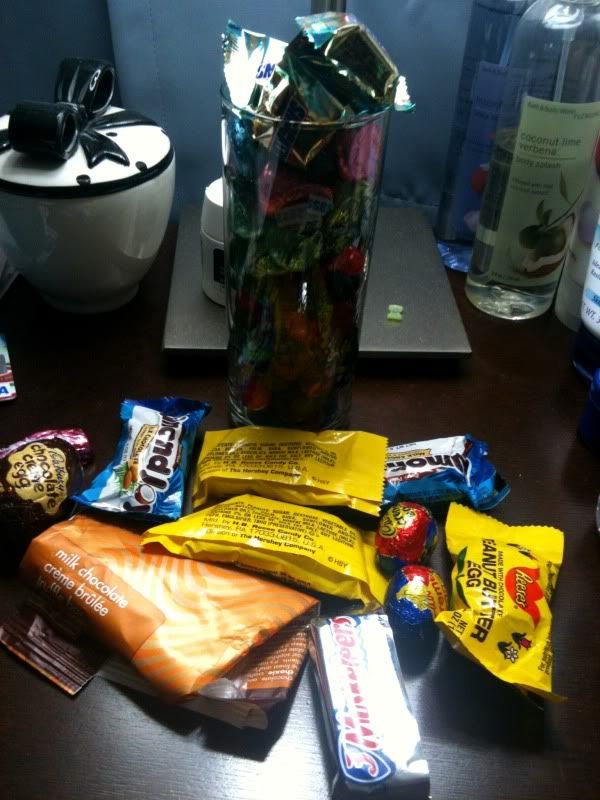 How could you say no to that? It just seems to make everything so bright and cheery with their colorful wrappers!

For right now I'm going to start journaling my point intake in my notebook (as per usual) but I think I may also start logging calories in the "My Fitness Pal" app that hasn't been put to use in quite a while just for a nice change of pace.
Here's to hoping this sticks!!