It's been a whole week since this little guy has made us into a "family" and I couldn't be happier..or more exhausted. I swear, I now feel that I have a pretty good idea of what it's like to have a baby because he's pretty needy (and he may or may not get treated like one..sometimes).
We've found out that he can make it through a day of us being gone for work without getting all nuts, that he does not like the vet one bit, and his natural defense to getting scared at that vet's office? Falling asleep. Oh, and let's not forget to mention he HATES taking medication for his kennel cough.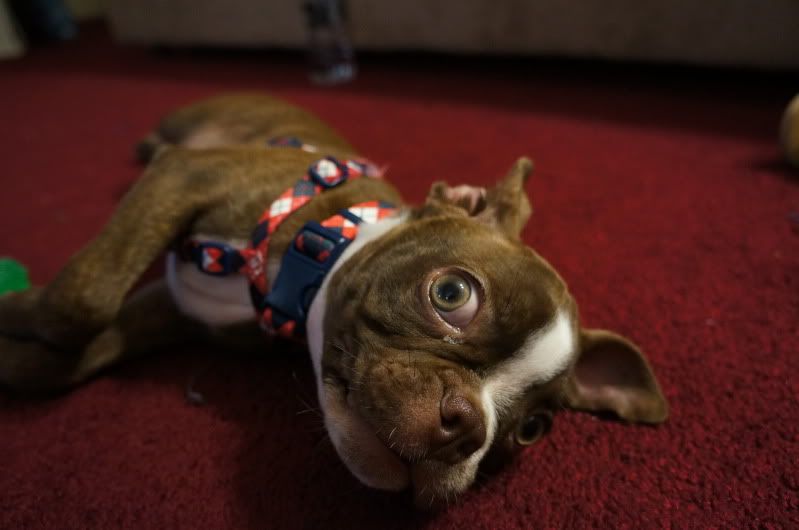 Yea, that and his 3 a.m hacking fits have been tons of fun, let me tell you.
His potty training is well…getting better. He's still exclusively on a wee wee pad and the number of his accidents are dwindling down from the 13 (yea, friggin 13!!) he had in various spots around the living room last Saturday thanks to this marvelous spray right here.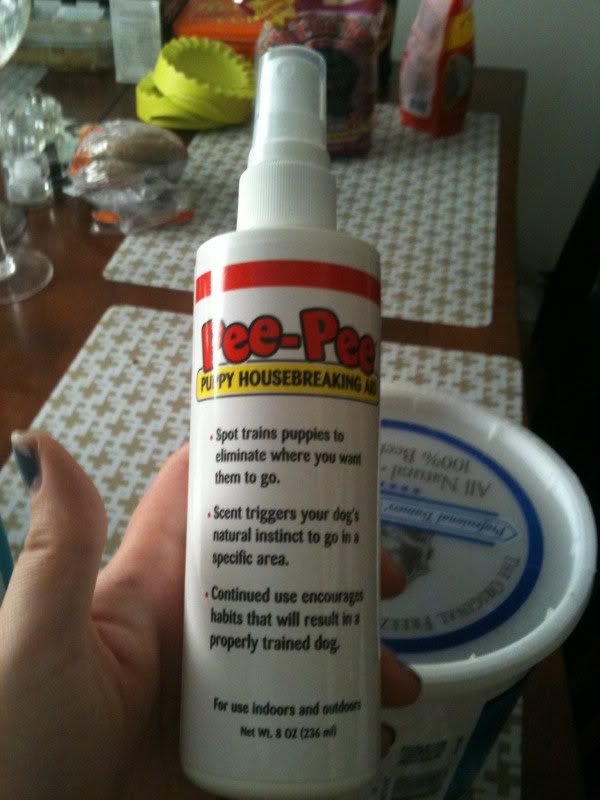 Best $5 I've ever spent. He now only will miss the pad when he halfway walks off it and at least that shows that he gets the idea of it. His aim just isn't spot on quite yet. Oh, and there was that random poop he took in the hallway..I still don't understand what that was about? Just wait till Saturday though. That's when he's starting to go outside to do his business. I wonder what the neighbor's will think when I'm outside saying "go potty, gooooood boy" in my high pitched puppy talk voice at 7 a.m?
Speaking of the command "go potty" he's now learned to equate that term with his apparently super yummy, drool inducing liver treats. He will now stand on his wee wee pad and look straight at me, waiting for me to say those magic words. Once I say them in a questioning, not rewarding, tone he will then LEAP over to where I am and jump around excitedly, expecting a treat. I wonder when he'll learn that he actually has to do as the command says and go potty before a treat is deserved?
Oh and p.s.- after this happened for the 3rd time I stopped saying go potty. I didn't want to keep getting his hopes up. I now just look away and keep my fingers crossed that he won't move and actually pee.
And how am I feeling? Pretty sleep deprived. I'm still basically getting a full night's sleep but it takes a lot of energy to keep up with a 3 month old puppy and I'm pretty sure I'm sleeping a lot lighter than I used to. A cough would never wake me up before but now when I hear him hacking (poor thing) I'm immediately up and keeping an eye on him..just to be sure he's ok. I'm still very much happy about our decision to get a puppy and even more happy that we chose Murphy in particular. I knew it was going to take work..and tons of it..but it's all very much worth it to have this adorable face fall asleep so peacefully on your chest.