Besides roaming a cemetery trying to locate my deceased mother in law's gravesite and battling weekend crowds at Target, I spent the majority of the day Sunday browsing Etsy trying to find a bracelet. Not just any bracelet, either. It was a particular bracelet that I intended on buying with a large green stone and pink beads I could've sworn I saved to my favorites. Or on my Pintrest. Needless to say it was in neither spot.
I took to Etsy and searched "cotton candy bracelet" (I'm pretty sure that was the name it had been given) and when I came up with nothing I started searching "carnival bracelet" or "circus bracelet" because I knew it had to be something like that. Still, nothing. I then got desperate and started looking for "green stone bracelet", "pink and green bracelet, and so on and so forth. Nada… So what do I do when I either can't find something I want (or when it's too expensive)? I make it.
After a little searching I found out that the stone on the original bracelet is called hemolite and was happy to find that there's an abundance of it on Etsy. I came across the perfect lime green nuggets
here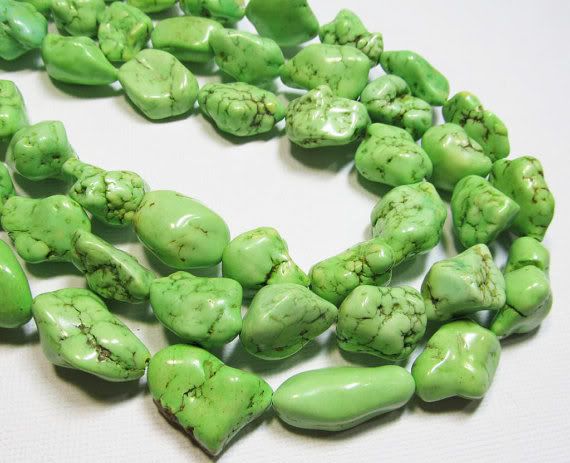 and now all that's left to do is find the perfect pink bead.This is proving to be a most difficult task. I don't really remember what the original bracelet had so I'm sort of left to my own devices. I'm not sure if I want to go with wooden, pearl, or crystal beads. Then I don't know if I'd prefer fuchsia to light pink. Decisions, decisions. I'm going to keep up the search more today and I'm keeping my fingers crossed that I can settle on something (that preferably won't break the bank). Then it'll be bracelet making time! Finally..a quick cheap project that may actually get done..
P.S- I know this is getting pushed ahead of all of my other
planned projects
but this is such a summery bracelet and seeing as there's only 1 more month left of summer I kind of need to get a move on.